BELUGA 18 –
SOLAS MARINE FIREFIGHTING BOAT AT A GLANCE
A specialized Fire Boat designed to be a highly reliable asset to extend support and aid in maritime emergencies, Solas Marine Beluga 18 Firefighting Boat holds advanced capabilities and diverse functionalities to fight shoreline and shipboard fires with top efficiency. It facilitates multiple purposes of firefighting as well as performing rescue and medical emergency operations for passengers or crew who are in danger.
Featuring a high-performance, fire-resistant, carbon-fiber infused sandwich structure, Beluga 18 carries extensive mission-enabling traits such as shallow water operational capabilities, water spray protection curtain system, biodegradable foam system, and a large open fore-deck space. This marine boat boasts of powerful watercraft pumps, nozzles, and a water throw length of 120 meters, altogether making it highly capable of fighting fires from a safe distance.
THE EVOLUTION OF

FIRE BOATS
Since their invention in the 18th century, the floating fire engines which have evolved into today's modern Fire boats, underwent exponential advancements in design as well as capabilities to meet the requirements of maritime responses. They include not only combating serious ship fires and shoreline conflagrations but also search and rescue operations in addition to safety patrols.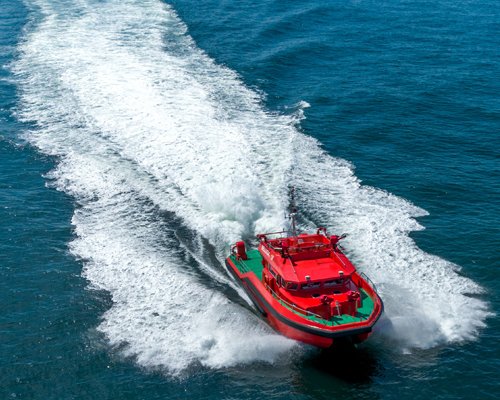 A

SEARCH AND RESCUE BOAT

DESIGNED TO SAVE LIVES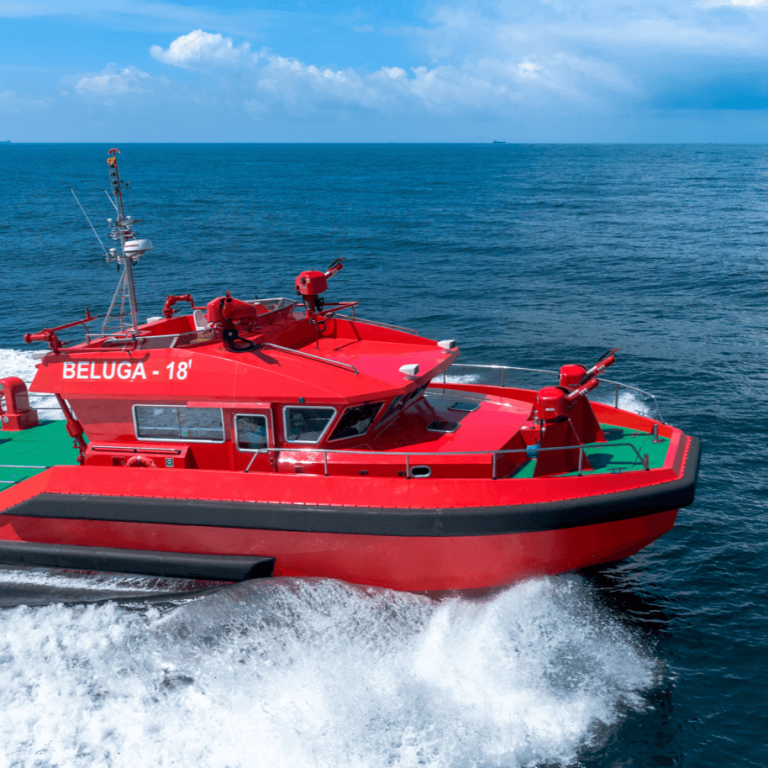 The need for efficient and reliable rescue boats, such as Beluga 18, especially increased with the development of navigable waterways in cities and around artificial Islands. Versatile and sea-proven, this safety boat is fully equipped to fight any kind of fire by using both seawater and foam. Designed with a mission to prioritize the safety of lives, its superstructure is designed to fit two stretchers at a time and holds medical equipment for advanced first aid measures.
A HIGH-PERFORMANCE
FIREFIGHTING BOAT
Designed and built by a passionate team of experts harnessing the latest advanced technology, Beluga 18 boats are well-known for their flexibility, operability, and reliability. They have truly answered the call for maritime emergencies in the Middle East region and have been garnering a reputation across many nations as one of the quickest and most efficient options for help at sea.
FEATURES
A strong, superstructure with high durability and designed to carry heavy loads
Limited hull structure and base, which offer top stability and manoeuvrability
Functions as a pump station to support coastal firefighting operations
Great at seakeeping: Capable of withstanding extremities of weather and challenging environments
Designed to fit 2 stretchers and first aid equipment to medically assist the distressed sailors
Diverse functionality with the possibility of transporting crew and large equipment owing to its large open deck space
SPECIFICATIONS
The Beluga 18 is powered by twin 1600HP engines, two water jet configurations delivering top speeds of 35 knots. The firefighting system is designed with advanced control systems that operate 4 monitors and a pump interconnected to provide a total discharge rate of 1800m3/hr. The Beluga 18 is a low draft catamaran that enables an approach closer to shorelines and suppresses fires up to water depths of 4-8m.
Application: Fire Fighting & Rescue
Hull Type: Catamaran
LOA: 17.91 Meter
BOA: 6.91 Meter
Draft: 1.03 Meter
Engine: 2×1600 hp (Intermittent)
Propulsion Type: 2x Water Jets
Crew Capacity: 06 Nos
Max. Speed: 35Kts
Cruising Speed: 25Kts
Fuel: 2×2100 Ltr.
Foam: 2×2050 Ltr. Bio-Degradable ( Fluorine Free ) Foam
Fire Monitor Water Throw : 120 M
Classification: LR 100A1, SSC, Workboat, Catamaran, G3, MCH
Certification: NFPA Class III – Fire Fighting
DOWNLOADS
BOAT BUILDING YARDS
Solas Marine Services is a builder of composite vessels that operate shipyards in UAE & Sri Lanka.
SOLAS MARINE SERVICES CO. FZC.
P.O.BOX 41789, PLOT 2B-04,
HAMIRYAH FREE ZONE, PHASE 1,
SHARJAH, U.A.E.
SOLAS MARINE LANKA (PVT) LTD.
129, CARMEL MAWATHA,
ELAKANDA, HENDALA,
WATTALA, SRI LANKA.