A specialized firefighting boat designed for fighting shoreline and shipboard fires in the marine and offshore industry. Highly Capable of fighting fires from a safe distance, having a water throw length of 120 meters.
The vessel is self-protected from its own water curtain system. Boat is fully equipped to fight any kind of fire in the sea, which uses sea water and foam both. This boat is equally used for rescue and medical emergency operations in the marine and offshore industry to rescue Passengers or Crew in danger.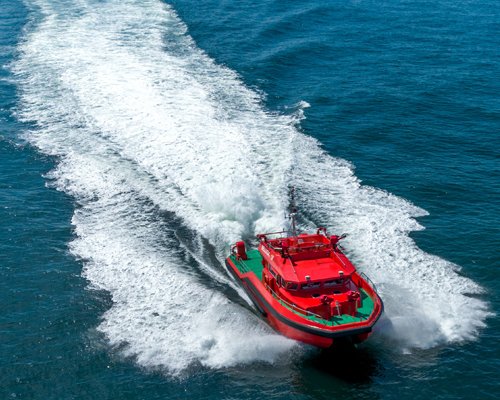 SPECIFICATIONS
Application: Fire Fighting & Rescue
Hull Type: Catamaran
LOA: 17.91 Meter
BOA: 6.91 Meter
Draft: 1.03 Meter
Engine: 2×1600 hp (Intermittent)
Propulsion Type: 2x Water Jets
Crew Capacity: 06 Nos
Max. Speed: 35Kts
Cruising Speed: 25Kts
Fuel: 2×2100 Ltr.
Foam: 2×2050 Ltr. Bio-Degradable ( Fluorine Free ) Foam
Fire Monitor Water Throw : 120 M
Classification: LR 100A1, SSC, Workboat, Catamaran, G3, MCH
Certification: NFPA Class III – Fire Fighting
DOWNLOADS
BOAT BUILDING YARDS
Solas Marine Services is a builder of composite vessels that operate shipyards in UAE & Sri Lanka.
SOLAS MARINE SERVICES CO. FZC.
P.O.BOX 41789, PLOT 2B-04,
HAMIRYAH FREE ZONE, PHASE 1,
SHARJAH, U.A.E.
SOLAS MARINE LANKA (PVT) LTD.
129, CARMEL MAWATHA,
ELAKANDA, HENDALA,
WATTALA, SRI LANKA.